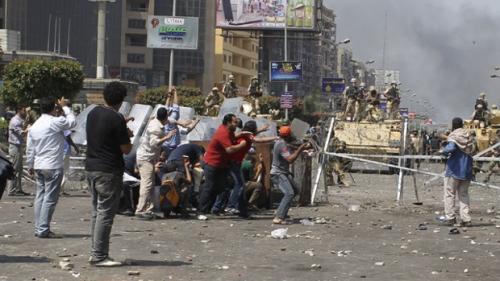 Authoritarian methods, used today by [General Abdel Fattah] al-Sisi, are an example of state terrorism against the people. Claiming that this excessive violence is directed against a certain segment because of its ideology is intellectual nonsense. This terrorism was practiced by the military and police forces not only against the [Muslim] Brotherhood, but days before military forces attacked workers in Suez, and charged them with incitement to strike, as if the right to strike has become a punishable offence. We are now back to the same emergency law [as before].
The Army and the police now give the pretext for the party of parties to exercise violence against the various segments of society, including also the state and its agencies in the game, working in collaboration with the media to create an image for the people that there is a monster to destroy, so to kill him becomes a community's mission.
But the parties involved in the massacre of today seek only their own advantage. The conflict, since its inception, between the two parties was for seats and positions in the state, and both parties do not care about the blood, both parties play the poor against the poor in the skit of distraction and claim their rights from the remnants of the businessmen and statesmen. That polarization does not only serve the owners of capital and owners of high-level positions in the state.
THERE IS NO WAR BUT CLASS WAR! DOWN WITH THE STATE! DOWN WITH THE MILITARY! DOWN WITH THE POLITICAL SYSTEM! DOWN WITH CAPITALISM!
Egyptian Libertarian Socialists on Facebook
Tahrir-ICN (Middle Eastern Anarchists)
Solidarity with Workers in the Middle East